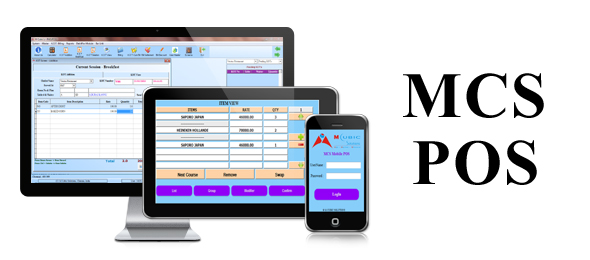 The ever-mounting market pressures, diminutive margins, soaring tenure prices, and an unsteady supply in hospitality industry pose huge challenges to restaurants in their attempt to attain operational efficiency and commercial profitability. Every hotel or restaurant aims to increase its table turn over and generate maximum income. However various functional challenges faced amplify the importance of applying avant-garde technology for optimizing service and increasing productivity. Identifying the challenges, MCubic Solutions provides MCS POS that helps restaurants deal with the challenges and add value to their products and services, thus helping them march ahead of the competition.
The MCS POS has an array of configuration options and comprises of user-friendly modules for helping restaurants offer rapid service to customers- be it room service, front desk, inventory or recipe management.
Take for instance a real-world scenario, wherein a guest orders food in a restaurant. With the conventional method of taking and delivering orders, there would be a lot of shouting and running between the kitchen and tables. However, leveraging the MCS POS system, restaurants can simplify the whole procedure in the following manner:
- As the waiter is receiving orders for the food items, he can simultaneously punch them into the hand held device.
- Apart from the conventional devices, we also provide PDA (fully integrated touchscreen) for KOT. As the customer punches in the items ordered, the list is automatically printed to respective kitchens while the waiter is interacting with the guests. For instance, Chinese food order would be sent to the kitchen that prepares Chinese food whereas order for Spanish item would be sent to the kitchen preparing Spanish food.
- After the ordered food is ready, kitchens inform the services that the order is ready for the respective table
- The KOT screen also provides a facility of splitting and parting, so as to create a separate billing in respect to the type of food item and the quantity ordered.
- The bill settlement tab facilitates payment through various modes like credit, cash, etc.
Customers expect quick service from restaurants and that is what MCS POS helps you to accomplish. The most significant advantage of this feature is that the waiter can punch the order into the system from anywhere without requiring him to go to the desk. This further helps in saving considerable amount of time.
This product is integrated with other MCubic modules like Front Desk, Inventory & Recipe Management. The recipe management function of this module defines each menu item at the POS and its ingredients to attain a gross margin and margin percentage.
Technologically, every effort has been made to ensure that this MCS POS is user-friendly to facilitate easy and time-saving self-training by staff members. At the same time, all measures are taken to ensure that no compromises are made on the quality front.
Let us have a look at the specific product features for MCS POS
Special pricing options
Compliance with OLE for Retail POS (OPOS) standards
Menu Items can be classified under Menu Heads and rates can differ per Outlet.
Touch-Screen Ready
Excellent Multi-user environment
Entries for Add-On Sales Tax, VAT, etc.
Flexible Discounting on Income heads.
POS Center wise printer selection
Bill Print & Duplicate Bill print is automatically controlled by the system security & audit. Choice from a combination of separate or combined F&B and liquor KOT& Bill printing option with unique serial number generation for all series.
Center wise Voucher Numbering
Bar Code Templates with symbologies that include UPC, EAN, ITF, and Code-39
Tables & KOTs on a busy table can be effortlessly moved to any other open or busy table.
Authorization features like Credit Authorization, EFT, Currency conversion and Check Face Print
The "All Tables" view shows a picture of all tables whether they are vacant, Occupied, blocked, billed or delayed
Comprehensive use of POS features at both the Store and Terminal levels
Quick Change POS and User Id facility to allow multiple users to share common terminal and bill for multiple Outlets from the same node
Conversion ratio for Each Item with ODBC complaint databases
Automatic Shift End and Day end routines
POS User's Development Tools Set that lets user to develop personalized software applications
Chart wise server assignment